adderley woven flower basket
by betty lee
(chilliwack, b.c. canada)
Adderley Floral woven flower basket
i have an Adderley woven rose basket 4 inches across and about 3 inches high. the mark on the bottom is "Adderley" on the top, not Adderley ltd. there is other information - Staffordshire England, and floral and figurine bone china. there is also a crown with a flower below that. all of the marks are circular. there is also in gold the number 10. as well as this there are two letters and two numbers that have been marked in the china before firing. i cannot make out the letters but they may be FB and the number may be 26. unfortunately the basked handle is broken off and the tips of 3 leaves are also gone. is the item of any monetary value. thank you for your time.

betty lee
===========================================

Dear Betty, Regarding your Adderley Floral Bowl.
Peter Holland has a good information site that, amongst many other things, talks about Royal Adderley Floral. visit Peter Holland's 'Figurines - Sculpture' site(see below). Your bowl, unfortunately will have little value, money-wise, due to the damage. It will still have a charm of its own for the lovely hand-made flowers, though.

Best regards

Tony

extract from Peter Holland's 'Figurine-Sculpture site.-

Royal Adderley
Founded in 1876 by William Alsager Adderley in Longton, Stoke-On-Trent, England. The original company was called 'William Alsager Adderley & Co' and the marks used at that time were either "W A A" or "W A A & Co". Also known later as Royal Adderley, presumably due to a royal license which I am still trying to trace (if you have any info please submit at the "comments and questions" at the bottom of the page.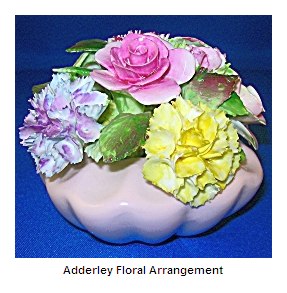 Later, they became part of the company that owned the Lawleys retail chain which was bought out by the giant group of Pearsons, now famous for their publishing and media interests. The subsidiary, in the 1950's was known as Ridgway and Adderley as they were joined with the famous old china firm of Ridgway (see under 'R' above). Pearson sold off Ridgway & Adderley to the Wedgwood group in 1964 and from there both names gradually faded away. Later, Pearsons joined with Doulton, so Adderley, to my knowledge was never in the Doulton group.
Royal Adderley are often associated with the hand-made bone china flower displays, but, actually made a whole range of bone china items form tea sets to jugs etc etc.
x


Prior to the Ridgway era of the 1950's, the company was known as Adderley (floral). The tea sets, for example in the 1930's, would have been marked in brown ink as:

Adderley lower caseThen a crown logoFLORAL upper caseThen a flower logoBone ChinaMade in England

The 'Royal' would presumably have come with the 'Ridgway' association in the 1950's (Ridgway had several warrants and licenses bestowed - see under 'R' in the Ridgway listing).

I heard an anecdotal story when, in the late 50's someone wanted to replace a broken tea cup with the plain old 'Adderley' mark. When she bought the new replacement (identical) it had suddenly developed a 'Royal' connection on the back stamp!!

The flower arrangement dishes from the 1912 to 1926 years are likely to have the following backstamp marks:

Upside-down letter "V" over a crown.

Within the "V" is "Adderley"

and "England."

Then some red numbers.

Note:

This antique bone china snippet was written and researched by Peter Holland © 2008 as part of the "Talking points for quick connoisseurs" segment of his website Figurines-Sculpture.com. Any corrections, additions or questions please go to the "VisitorPages""comments and questions" at the bottom of the page (this site is truly interactive)